It's startling how difficult it can be to find certain American beauty brands and products as a non-US citizen. Oftentimes online stores don't ship outside of the US, and when they do, it costs more than the product itself. Shipping aside, we fear bankruptcy every time the mailman arrives with an extra bill for taxes and duties. Evidently, I got quite excited when I finally got to visit the Big Apple: all the Sephoras I'd be able to splurge at! All the new goodies I'd be able to discover and test out! And of course all the other splendour the city has to offer, but let's leave that for other blogs.
The following tips are but a fragment of shopping options NYC has to offer, so forgive me if I left your favourites out, and feel free to add your suggestions in the comments below.
Must visit beauty stores in New York
1. Sephora:
This very well-known store stocks all the quality brands you'll ever need, including some of my favourite harder-to-get-in-Europe brands like Tarte, Urban Decay, NARS, Murad, Glamglow, Peter Thomas Roth, Bumble & Bumble, Bare Minerals, Bobbi Brown, Laura Mercier, Cover Fx, Tria, and Kate Somerville.
Been out all day and want to freshen up your evening make-up without strolling back to the hotel? Or just in the mood for a free and complete professional makeover? Then this is the place to be. The make up artists are often a bit over"done" and it can be tough explaining to them that you want your look so natural you can't see it caked on too much, but they all seem extremely friendly and helpful.
What I got there? 1. Glamglow's Supermud, 2. Thirstymud and 3. Powercleanse Dual Cleanser, 4. Tarte Maracuja Creaseless Concealer, 5. Tarte's Amazonian Clay Full Coverage foundation, 6. Clinique's full coverage Beyond Perfecting Foundation + Concealer Foundation, 7. the Beauty Blender and 8. cleanser, 9. Urban Decay's Anti-Aging Eyeshadow Primer Potion, 10. Kate Somerville's Eradikate, 11. Living Proof's anti frizz leave in conditioner,  12. two extra Clarisonic brushes, 13. l'Occitane hand cream, 14. my all time favourite Peter Thomas Roth CC correcting concealer and 15. Unwrinkle pads, 16. Lancôme's Le Duo Contour and Highlighter stick, and a bunch of free samples (reviews coming soon, but I'm loving everything tested out so far).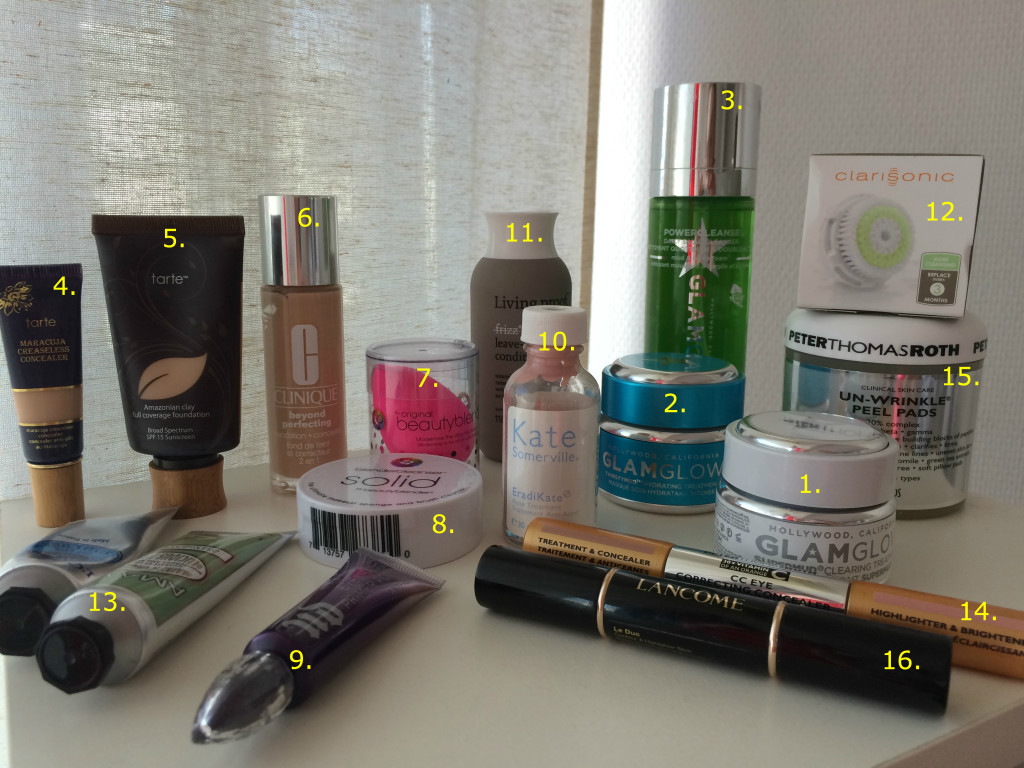 2. Ricky's:
Typically a huge, rather messy, eclectic store, Ricky's houses an enormous array of brands (from Ahava, Bumble & Bumble, Opi, Murad and Glamglow, to Oral-B and Poo-Poori) at more affordable prices than Sephora.
What I got there? Unfortunately not much (Sephora's fault, since I'd spent way too much there already). My all time favourite Murad Concealing Acne Treatment, and Fullips lip enhancer both aren't sold at Sephora, but luckily Ricky's had 'em both (review of Fullips vs. Candylipz coming soon!).
Pity I didn't go to Ricky's first though, since I think I could have gotten a large part from my Sephora haul at a better price here.
3. Birchbox Store in SoHo:
This innovative store not only sells the latest beauty finds, but you can also build your very own Birchbox, chosing from an assortment of samples. Like Sephora, you can also try out all products in the Try Bar, and Birchbox subscribers can even book free makeup and skincare lessons. FYI: Europeans can get their Birchbox subscriptions at the French, UK, or Spanish webshops.
4. Bergdorf Goodman: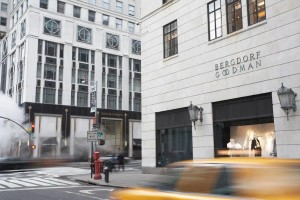 Got more money to spend, or looking for specific high-end brands like La Mer, La Prairie, Clé de Peau, Michael Kors, Dior, Sisley, Le Métier de Beauté or Chanel? Then head to this opulent store with marble floors and chandeliers. These brands are, however, readily available in Europe and may even be cheaper here, and personally I find them all highly overrated. Their beauty gadget section on the other hand is rather impressive: luxurious simplehuman makeup mirrors, Supersmile sonic toothbrushes, NuFace, Tanda, Iluminage and Tria lasers, Sedu flatirons and Thairapy's restorative Led conditioning hair tools, or Clarisonic and Foreo cleansing devices etc.
5. Don't forget the Pharmacies
CVS 24 hour stores are scattered all over the US, and are the ideal places to buy a quick snack, whilst stacking up on some Melatonin, Pureology shampoo or my go-to Colossal mascara by Maybelline.
Walgreens and Sears are places I have yet to explore.
Other NYC Shopping Musts
1. The "we didn't get there" beauty shops:
Unfortunately, our time and budget was too limited to see it all. But I definitely have some exciting new to do's for my next NYC shopping spree:
Twisted Lily, Diptyque and Le Labo (for perfume fanatics)
The Mac Pro Showroom
Alcone (a make-up artist favourite)
Shen beauty (with hard-to-find products)
Barney's beauty floor
Saks Fifth Avenue Beauty Floor
Obsessive Compulsive Cosmetics (for the animal lovers among us)
Duane Reade at Herald Square (a brandfest drugstore)
Urban Outfitters at Herald Square
Pucker (lipstick heaven in SoHo)
Ten over Ten (for nail addicts)
Cap Beauty
The Red Door
Inglot
Bloomingdale's in Soho
A refreshing, artsy flea market in hipster hotspot Williamsburg, full of quirky, fun, original fashion and goodness. Rather pricey, but we did score some greatness here. For more of NY's best flea markets, visit timeout.com. P.s. bargaining is possible here.
3. Fashion shopping for beginners
– On Broadway you'll find: brand after brand, many high-end stores, Bloomingdale's, etc.
– Smaller, newer designer boutiques can be found on Broadway's sidestreets. e.g. Nolita (North of Little Italy), Prince Street and Spring.
Next to the many flea markets, Vintage clothing can be found in legendary Beacon's closet, which has 4 stores across NYC.
Creatives, dash off to the Garment District and shop your hearts out at wholesale prices. Textiles, accessories, leather, embroidery and jewellery galore, with famous stores such as Mood and M&J Trimmings to help you get started with your Project Runway career.
For designer shoes at discount prices, visit DSW on Union Square.
4. Online through a Personal Shopper
I couldn't find everything on my list, but luckily my friend and personal shopper Ms. Wisse (who lives in San Fransisco) buys and sends me goodies from the US that aren't available here. e.g. Recently, she sent me a CandyLipz lip plumping device (review coming soon) and heavenly Nike Air Max 1 Ultra Moire Fiberglass shoes.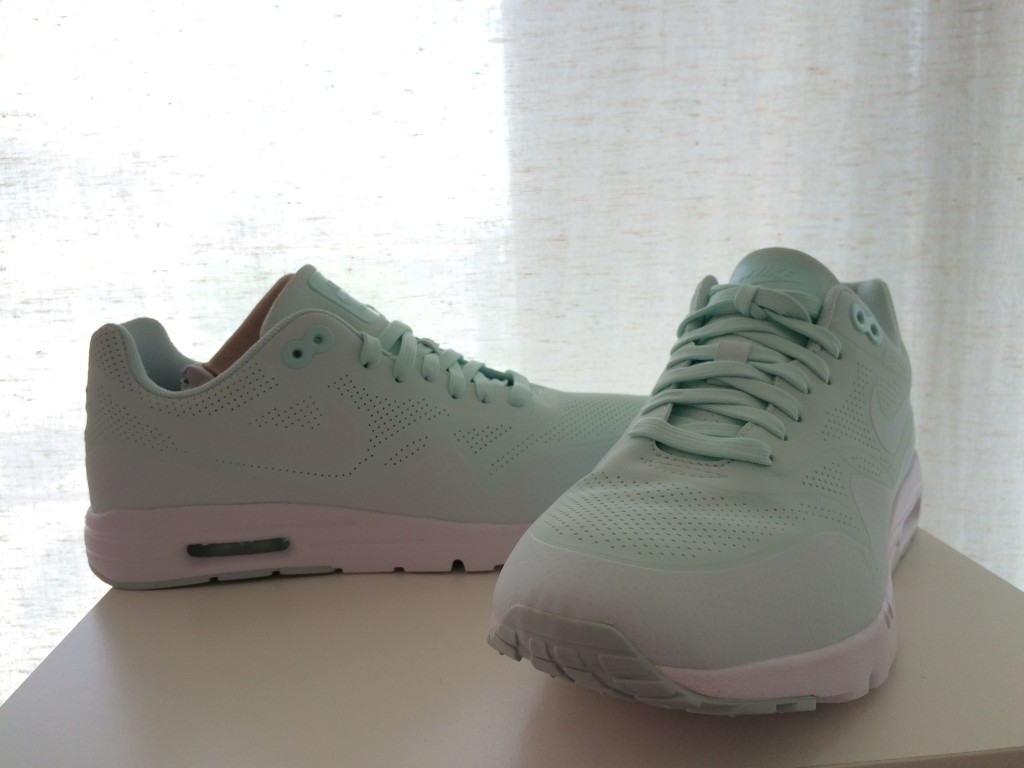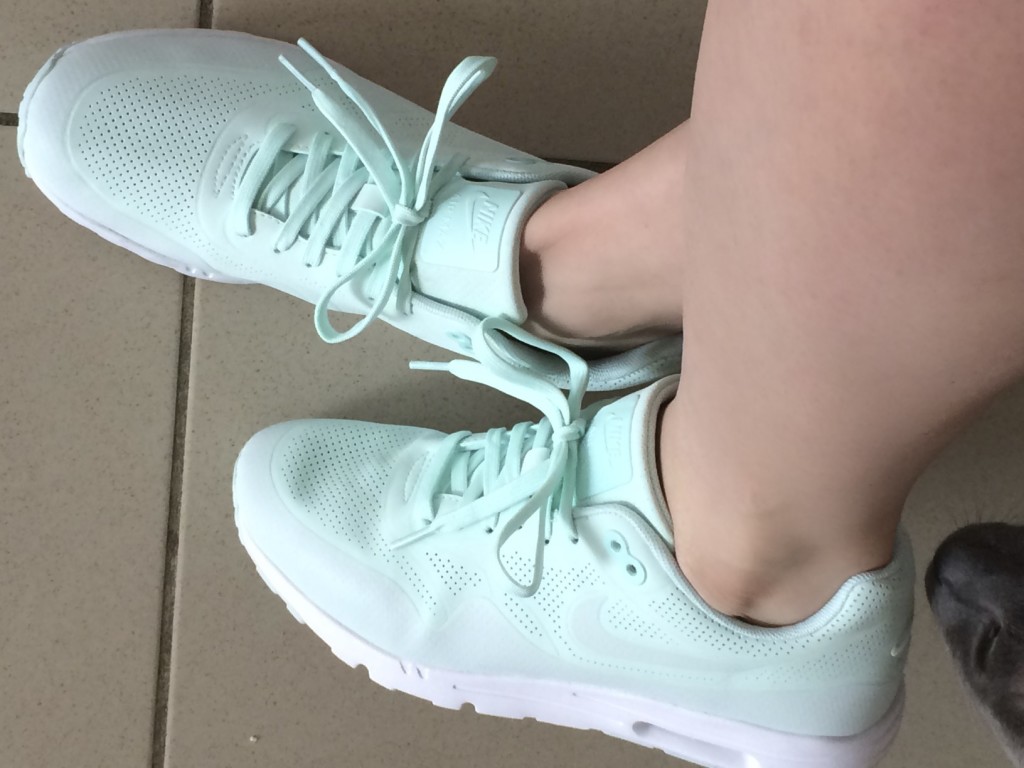 I actually fell in love with these Nikes at a Nike store in New York, but unfortunately the last pair was so dirty that even the sales lady convinced me not to get them. They were sold out in every single shop and webshop outside of the States, so imagine my joy when they arrived at my doorstep!
My next order from Ms. Wisse will probably include the hyped BabyFoot foot peel, Latisse's generic eyelash growth serum from Careprost, and some Frownies anti-wrinkle patches. Might be slightly more convenient than running off to America every time I need to get some beauty shopping done!